I call this Art Vs. Elementary school for a reason. Art school changed my perception of art. Before Art school my art was whatever I wanted it to be, there was no real pressure. Sure I had standards but it was personal, individual, and all mine. Art school made me reexamine the kind of artist I wanted to be. It exposed me to things I would have been too stubborn to find on my own. It made me a better artist and my standards of art were raised considerably. So much so that during school I felt crushed by them. Post college I fought like mad to live up to them. When you have time and boundless energy it is a complete joy to work on a drawing and hone your skills day in and day out. Then I discovered teaching. It was a complete accident but I loved it and once the ball got rolling It felt like somewhere I'd like to be. Of course working as a substitute teacher and getting my certification in grad school was suddenly eating up a considerable amount of my time and energy. I had to loosen the reigns and simplify my objectives. Art became less about the challenges and more about the release.
I posted some drawings in June that I had done while working as a substitute teacher here are some more from that same time. Most of these were done on my breaks in school or on the train or bus.
I wonder what other artists do when in this position. This is how I get unstuck, what do you do when you've raised the bar so high you find you can't (or don't have the energy or time to) reach it?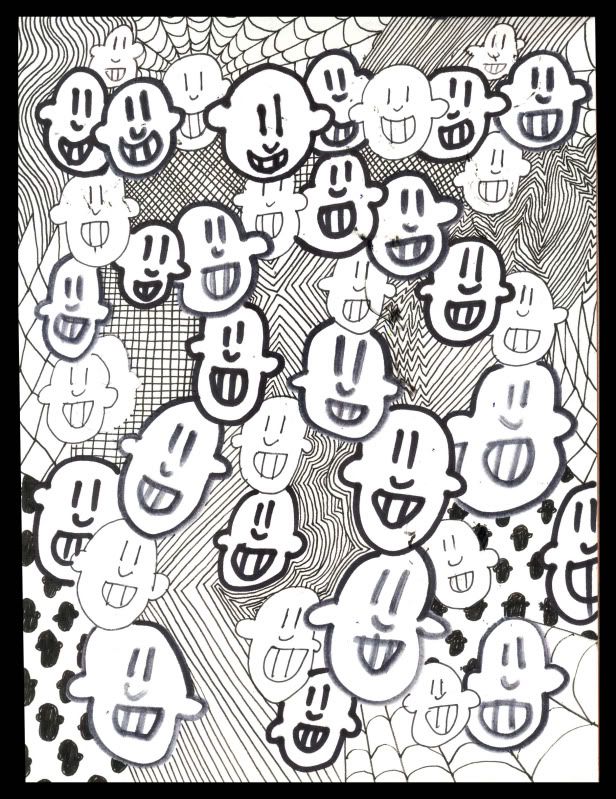 I know this is a massive post, I had meant to do this in sections, but summer came and summer went so here it is all at once. It is kind of like that scene at the end of "The Crow" with Brandon Lee, where he gives the bad guy back all of the pain that he caused and the guy falls off a church in the rain and gets impaled by a gargoyle, only with crayon drawings and sketchbook doodles and instead of falling on a gargoyle you fall into a basket of candy and are serenaded by baby turtles in top hats*. Does that make sense?
-James
*Hopefully.