I stayed home to draw lighters and watch horror movies. Captain Kronos and Asylum on 777 horror HD. Kronos was OK, not much to recommend it I thought; a bit silly, but definitely charming (I missed the beginning). Caroline Munroe was cute. Asylum is a new favorite. Feels just like an old EC comics anthology. The cats were sleeping.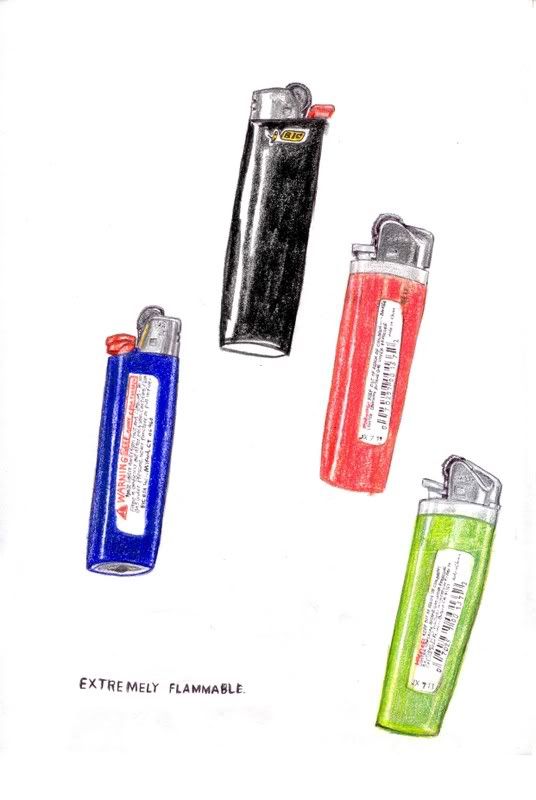 Justine sat across the table from me at dinner. We looked at each other through a Christmas ornament hanging from the chandelier. She and her parents were talking about Oliver Twist. I asked her if I could draw her and she obliged. I don't usually draw people. Yes that is wonder woman on her shirt, isn't she charming? Justines fingers do not actually look like breakfast sausage and her nails were a deep crimson. The "all rights reserved" across the bottom was copied from a "muppets from space" dvd I borrowed from Adam Rosenberg. It was a cool movie.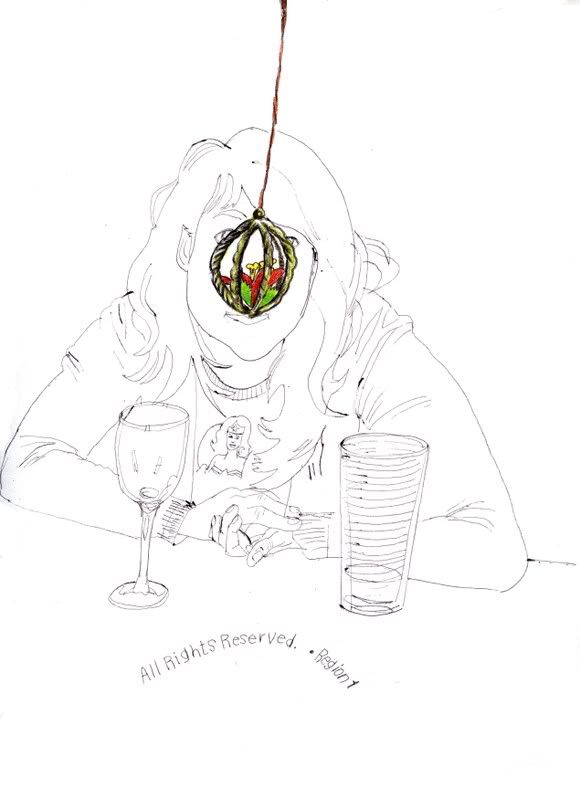 I'm out of order. I get captivated by strange graphics on house hold items. Sometimes I feel like drawing them is like doing a portrait of the person that made them. Some where out there a person created this. Or like doing a still life. Why is drawing a tree across the street any different than drawing the letters on a bottle of wine? Seems like the same idea to me. It caught my eye.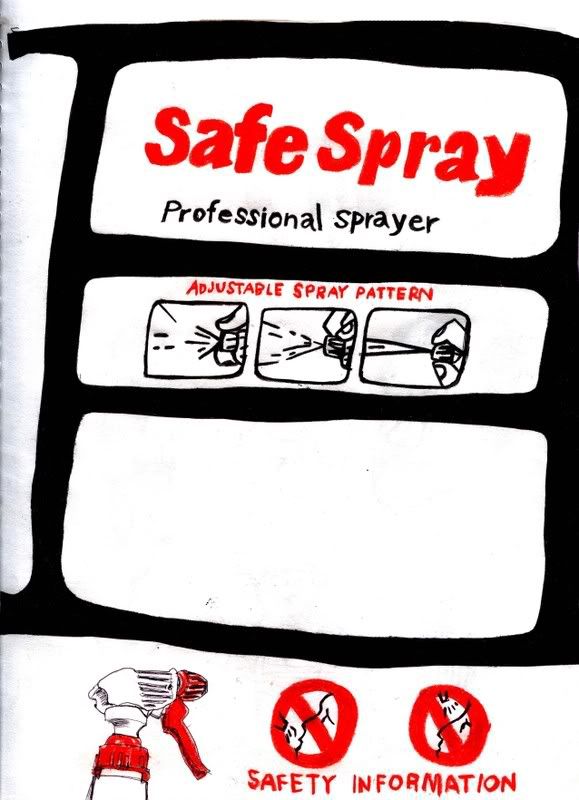 Table sketch. I don't always like to draw a straight forward still life. I think I might as well take a picture. Sometimes. This one started with the upc on the RUFFLES bag and spiraled out ward until I ended up sketching the crown off the bottle cap of a bottle of CORONA Light. Product placement.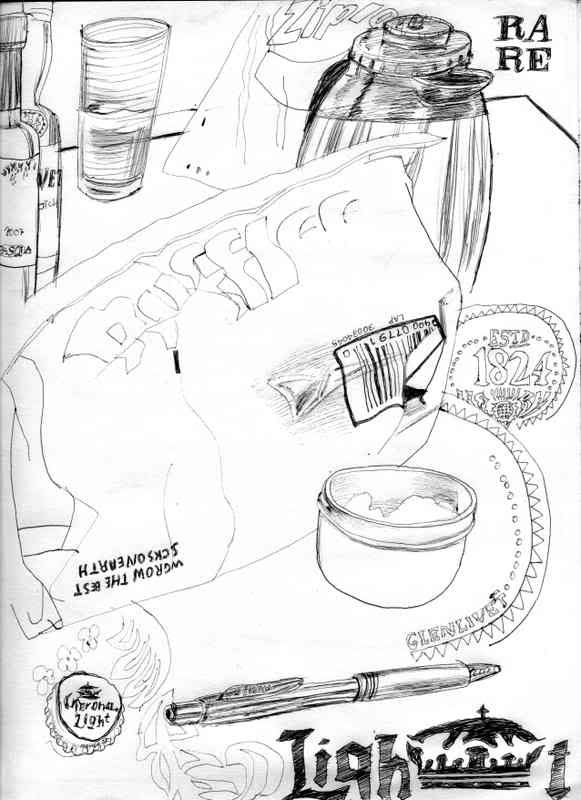 After having spent so much time drawing things from life I got bored and dived back into good old fashioned doodling. This is where all of my art springs from. I feel like any one who doesn't doodle cartoons must be weird. Like Monet what did he doodle? Roses? What a weirdo! Doesn't any one have a sense of humor? What did Picasso do doodles of? Probably buffalo's with erections killing matadors while women cry blood and get their heads cut off. yeah sure THAT'S ART! Good work romeo. Oh and if I was to analyze this I would know EXACTLY what it means. Yep, I was hungry for cookies.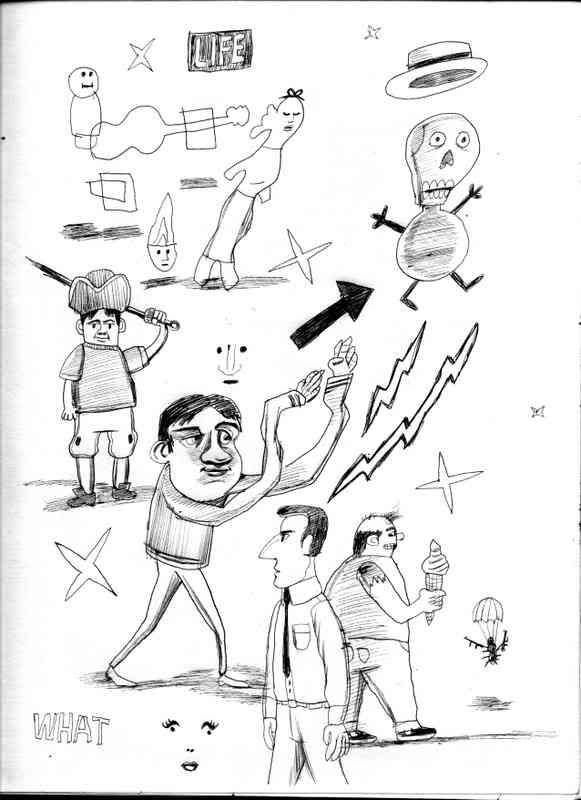 Watching TV. Some lady was riding a bike up a hill and wheezing. The cats were sleeping and you can't see it but they had machine guns. It was a blood bath. And Christmas tree top left.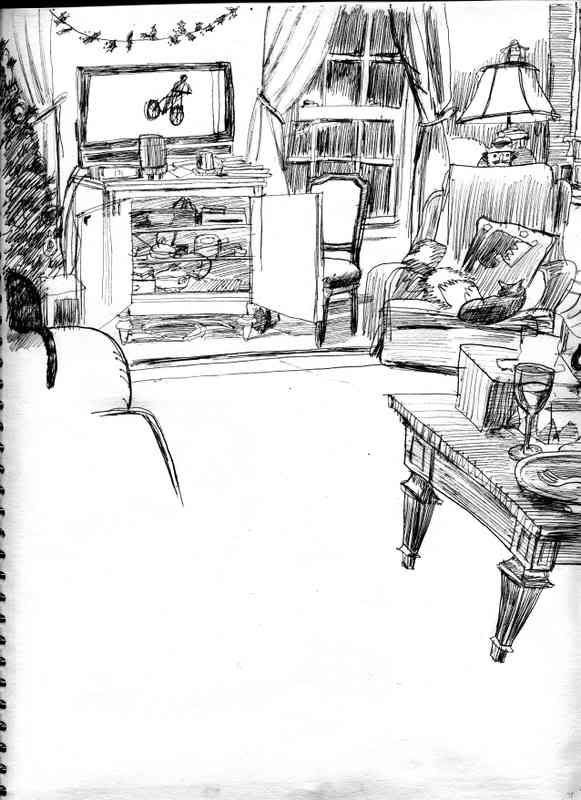 I don't often get into the color and I have been making a concentrated effort to break back into it. I have been carrying some colored pencils, this was the first attempt so I was trying to keep it simple. Damn I love cartoon frogs. I wish these were puffy stickers. Shout out to Justine! Yo Yo!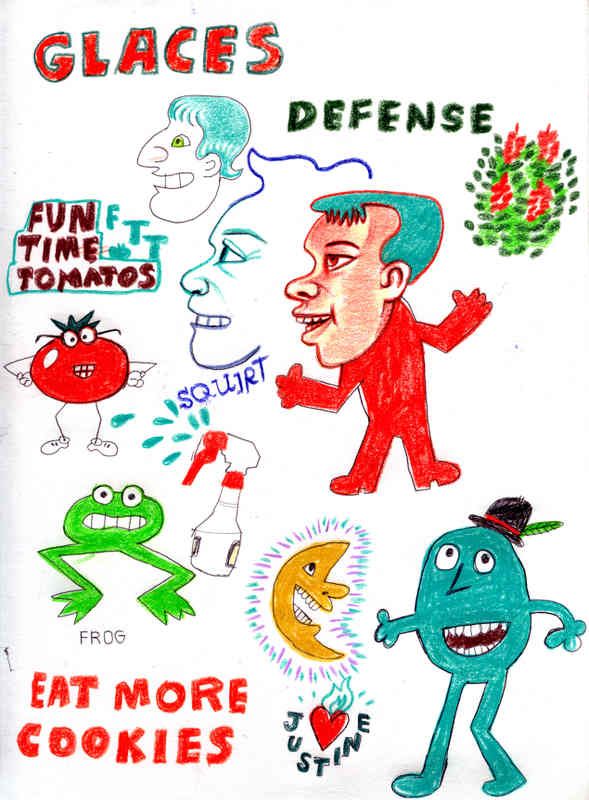 More doodles. Written in an alien language. If you don't know what NEXT 4 DAYS Z 10 means. You are clearly not educated. Go get a degree. This one features, again, my holiday muse the spray bottle. Another example of straying into doodles. I drew this while we watched 'Fiddler on the Roof'. I felt very alienated by it's jewishness and I illustrated the scene where the girls father rejects her and leaves her standing in the road because she married out of the faith. HARSH! It was a good movie though, I made it through the songs. I liked some of them, but musicals are usually hard for me to get through. There is just something about breaking into song... I don't know man.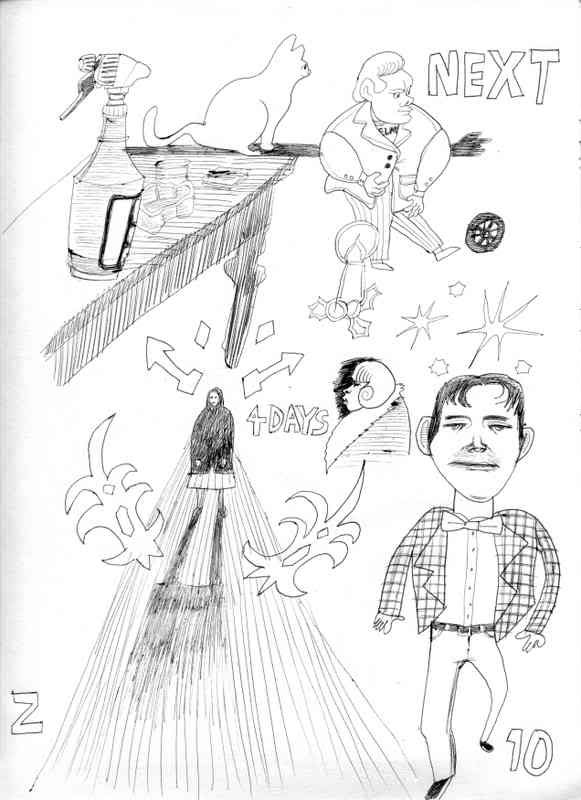 This one was drawn just prior to the one above. I really enjoyed this and I added the 'DIET' at bottom because as you can see it was behind the lamp (It starts after the K on the coke can). I love that font. My favorite drawing teacher was JACK POTTER this reminds me of him. Actually he used to be the artist on the old illustrated Coke ads. Weird.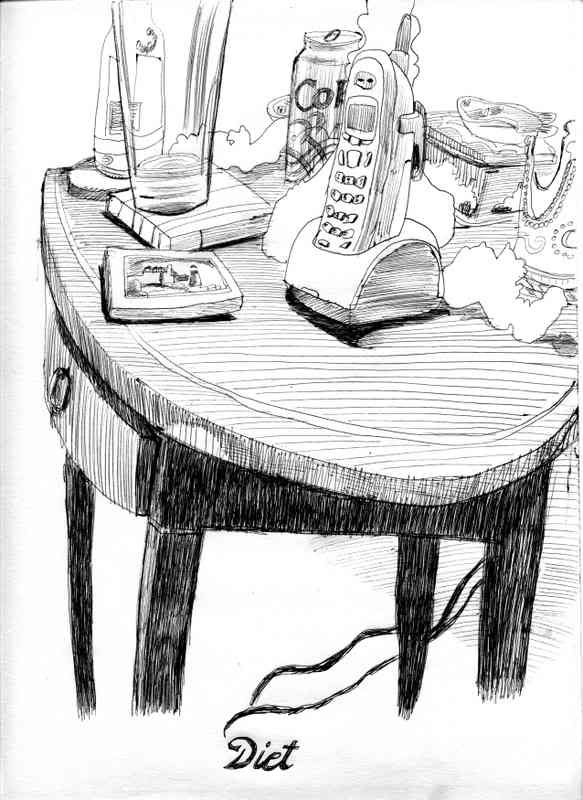 This is a little shout out/ homage to Justine. I spotted this on her book shelf and grabbed it. This is a portrait of the cover of a book she illustrated for college at Pratt (she is a PRATT brat). Her color is beautiful, obviously I did not tackle that aspect of it. The name of the book is "When You're Short" but I only drew the letters with cool little curlies on them. It is about a kid who is sad because he is short and so he build a jet pack. C'mon short people start hooting!
This morning for some reason I woke up feeling beaten. I sat at the table sullen silent and alone doodling very slowly for maybe over an hour. I don't drink any more but it felt like a hang over. Probably coffee withdrawal. I like the drawing but I felt so bad. By the end of the drawing I started to come out of it. It was very therapeutic. I signed it.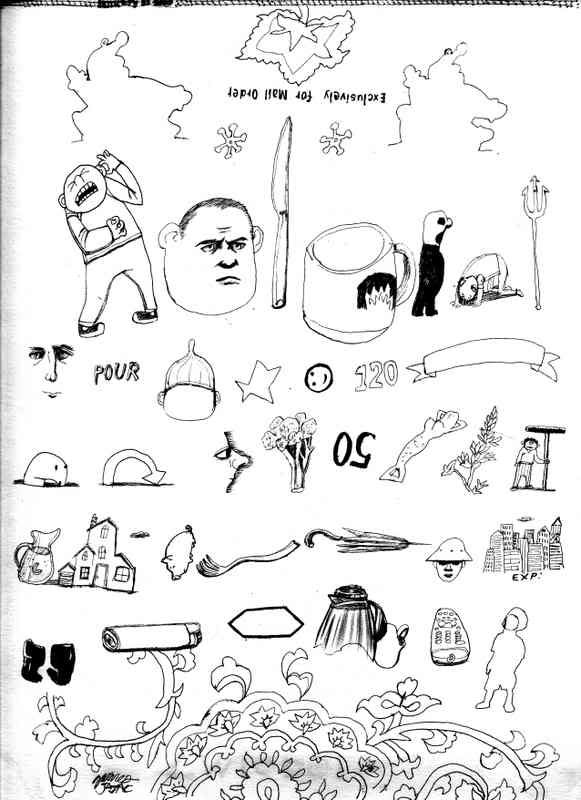 Lastly, speaking of Fiddler on the roof. I once interned for James McMullan formerly of PUSH PIN STUDIOS. One of my first tasks was to pose for some reference shots for a poster he was doing for fiddler on the roof. I was gonna put it up but I can't seem to find it. Maybe I never actually scanned it? Well it is floating around here some where. Until then this will have to do. "Through a haze of tears" -The wall street journal!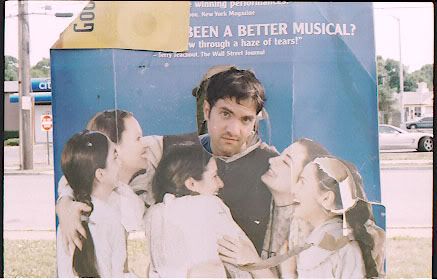 Asta La Vista baby.
James
JAJAC
PS-Ah sweet, I found it!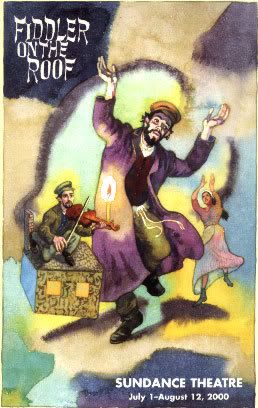 01/07/09
-James